About Us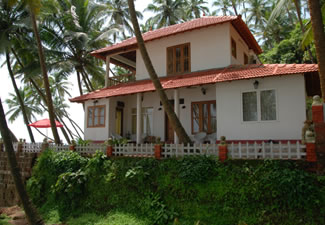 Ocean Hues beach house is a picturesque, cozy vacation rental, ideal for a romantic seaside holiday. It is located at Kizhunna, a mere fifteen minutes drive from Kannur town. Kannur, called the land of 'looms and lores', is a coastal town located in the northern part of Kerala -'God's own country'. Kannur is known for its pristine beaches, Theyyam - its native performing art, Kalaripayattu - one of the oldest known martial art forms in the world and the handloom industry.
Ocean Hues is a beautiful cottage, just facing the sea, that has all the modern facilities to make your stay a comfortable and relaxing one, at the same time allowing you to enjoy nature in all its glory. Watch the beautiful sea with its myriad hues, the waves that rush in to kiss the sand and the breathtaking sunsets that transform the sea into burnished gold. Truly a picture of tranquility.
Ocean Hues Beach House has been accredited by the Kerala Tourism Department in the category of Serviced Villas.
Ideal for people looking to get away from the hustle and bustle of city life and to spend some time in the warm embrace of nature. Here you can laze around the beach, go for a long walk along the shores, watch the dolphins playing or try your hand at fishing, all certain to help you forget the tensions of everyday living and to rejuvenate your mind and body. Come and experience for yourself this beautiful harmony of sun, sea and sand.
For many, India is a land of mystery, with a rich & varied culture. Come and experience the diverse cultures More...
Different packages are available at Ocean Hues depending on the season & period of stay. More...
Referred to as God's own Country, Kerala is a major tourist destination in India and is well inter-connected with other parts of the country. More...
Kerala - God's Own Country invites you. Come and visit the Crown of Kerala, Kannur. Walk barefooted to Ocean Hues, where Nature's bounteous beauty beckons you. More...
It's truly an out of the world resort, where sand, surf and sea are within kissing distance. Book your stay today and experience the warmth & hospitality of Ocean Hues. More...
"A beautiful place to stay, very relaxing. It was exactly what we wanted after a long cold winter in London. I would recommend this place to others and would come again. Thank you."
-Julie & Trevor London, England